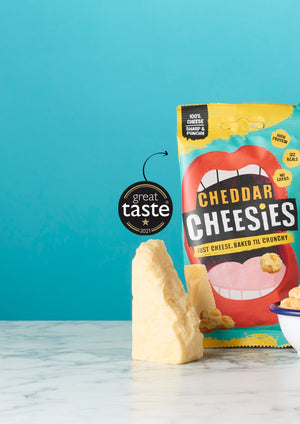 Just cheese,
baked til
crunchy.
100% cheese (literally). Gobsmackingly tasty. No fridge required.
High protein
From 115 calories
No carbs
Say Cheese
meet our line-up of gobsmackingly tasty cheese snacks certified to make you yell "where have these been all my life?"
I feel the need. The need for cheese.
Cheesies turn a block of cheese into an outrageously tasty, crunchy snack just by baking it.   
Literally made from 100% cheese with nothing else added at all, Cheesies are naturally high protein, have no carbs and no sugar at all, and only around 120 calories per serving.  All the amazingness of cheese, but with no fridge needed, Cheesies are perfect for nibbling al desko, on the go, or paired with your favourite drink. Suitable for vegetarian, diabetic, keto and gluten-free snackers.
As seen in